WIFI T-SHIRTS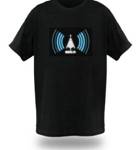 Wifi T-Shirts is a great novelty t-shirt that would make an excellent gift for any technophile, the WiFi detector T-Shirt also makes the ideal promotional item or giveaway for companies in the Internet or telecoms sector. There's now no need to crack open your laptop or walk around waving your PDA about to find out if there's a WiFi signal in the vicinity as this stylish T-shirt displays the current WiFi signal strength in your surroundings to everyone around you. Glowing bars on the front of the shirt dynamically change as the WiFi signal strength fluctuates. Perfect for finding the best places to access WiFi in Coffee Shops or when out and about, and even in your own home or workplace, the WiFi Detector T-Shirt shows the connections that are floating about in the airwaves all around you.
A great novelty t-shirt that would make an excellent gift for any technophile, the WiFi detector T-Shirt also makes the ideal promotional item or giveaway for companies in the Internet or telecoms sector. Constant internet connection has become a natural habitat for many, who become nervous and irritable if forced to spend any length of time outside of electronic contact. Now they can avoid such dangerous Stone Age locations, with clothes that warn them of a loss of signal - as well as identifying them as the alpha geek to all in range.
Wireless networking, or Wifi is so convenient, the ability to connect to a network or PC without any wires (instead of network cabling) is great. Using a WiFi setup with your PDA, PC or laptop means that you can share an internet connection, swap files, or share a printer. It's faster and has a better range than Bluetooth, and is ideal for home or office connectivity, but if your on the move how many times have you wandered around looking for a signal. Allow us to introduce to you the WiFi T-shirt. A great gift for any geek, the WiFi detector t-shirt has a 5 bar signal strength indicator cleverly fitted in a panel on the front of the t-shirt.
Available in four sizes and running off three AAA batteries concealed in a battery pack in a small pocket inside the t-shirt, this piece of geek chic shows the signal strength for 802.11b or 802.11g Wi-Fi signals. The animated patch is removable making it easy to clean and even easier to wash. This is geek chic at its pinnacle, its apex, you know, the top basically. These slim fitting (but not tight) black t-shirts have a WiFi signal detector built into them, which is pretty darn cool.When you wander into a WiFi area the little arrows do their light-up sequence spinny thing,and the five bar detector on your chest will illuminate to show you the strength of the signal. The shirts are black and come with a choice of a blue or green Wi-Fi signal, and in a variety of sizes depending on your diet. Whether you're a laptop roving geek-head or not is of course irrelevant, light up T-Shirts are so 'now' and so 'tomorrow today' that going out without wearing one will soon seem so very yesterday. Possibly tomorrow, but definitely not today.
DIGITAL T-SHIRTS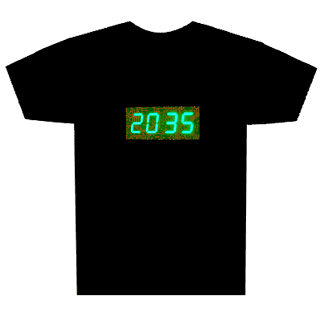 Digital T-Shirt printing is a great process and produces high quality result in full colour. With digital printing even a photograph can be printed as realistic as the original photo. Digital T-Shirt printing can only be done on Light colors due to the application process. For example colors like White and Ash Grey are reccomended.Digital T-Shirts printing are one of the most demanding printing service in the day today printing service world. The advent of digital garment printing technology in recent years has reshaped an important U.S. industry. Such changes present an opportunity to those who are already in the garment decoration industry as well as to entrepreneurs who are interested in it.
Digital printers use ink that is quite thin in consistency and hence digital printing works best when you use dark colors on cool t-shirts that are light colored. The concept of DTG digital garment printing is basically using a digital printer to lay down a textile water-based ink that has chemical binders that allow the ink to remain on the garment without a polymer being applied to the top of the shirt like a transfer. The ink is then cured to the garment using either a heat press or a textile conveyor dryer.
Digital apparel printing is nothing short of a revolution in garment decoration, particularly in T-shirt printing. Today digital apparel printing supplements complements and partially replaces conventional screen-printing. As we will discuss later, when applied to print runs of fewer than 500 pieces of garments, digital apparel printing can replace conventional screen printing, and it's a lot more economical. When digital printers with higher throughput are developed in the coming years, digital direct-to-garment printers are expected to completely replace the toxic process of screen printing. This represents an industry worth close to $22 billion in the US alone. The advantages of digital direct printing are many.
The costs of printing a digital shirt are higher but there are benefits to this process,
No Setup Fee
Full Color Printing Process at No Extra Cost
Printing can be done in ANY Quantity.
Very Fast Turnaround Time
Larger Printing Area Also Available