QR CODE T-SHIRTS
A QR (Quick Response) code is a print based hyperlink, simply cell phone readable bar code, it contain phone number, an SMS message, URL, email addresses, V-Card data or just plain alphanumeric text.
What is QR?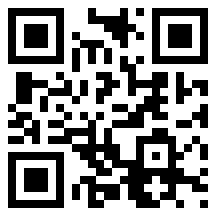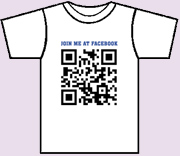 It is a two-dimensional barcode, which has encoded in it a URL (web address), text, or other information which is read by a QR code and then point a mobile phone (or other camera-enabled mobile) at it. If mobile phone has QR code software, it just directly goes straight to that URL or related browser. It also contain own error correction data, internal orientation calibration and self-alignment markers. The technical specifications for a QR Code are set down in the ISO-18004 standard so they are the same all over the world, and the only significant variations from one QR code to another (apart from the data it contains) is the number of modules required to store the data.
A Version 1 QR Code is a 21x21 array of data elements with the array increasing in size by 4 modules and it can hold 25 characters


The largest standard QR Code is a Version 40 symbol that 177x177 modules in size and can hold up 4296 characters of alphanumeric data (theoretically).
While there is still a lot of scope for improvement, the resolution of average present-day camera-enabled portable devices is such that the size of the data modules (dots) on a QR Code of Version 5 or above (37x37) presents a real risk of incorrect decoding of the symbol by the device. When creating a QR Code intended for use with mobile phones and PDA's it's best to stick to Version 4 or lower, and a QR Code symbol of at least 2cm (0.85inches) across.

List of QR code Scanner for Download